The advanced UV LED curing system based on COB packaging is a precise opto-electro-mechanical integration product. Its core components, including LED light source module, digital controller, etc., are all produced and quality controlled by CoolUV Technology co., LTD.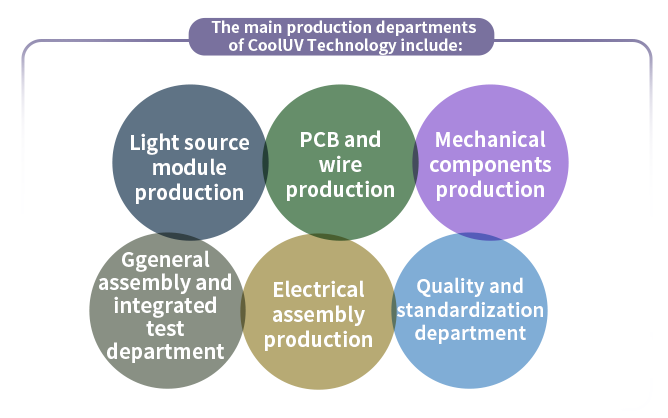 Production of mechanical components with all kinds of large-scale mechanical processing equipment more than twenty (sets), including high-speed and high precision triaxial, four, five axis machining center, the biggest processing range 2.5 meters, CNC lathes, five axis/six axis double spindle milling compound machining center, electrical discharge machine, surface grinding machine, six axis servo CNC punch press, all servo six axis CNC bending machine, laser cutting machine and other advanced production equipment and auxiliary equipment.
Light source module packaging production department has built a thousand-level clean workshop, part of which can reach a dynamic 100-level purification degree. LED module packaging and optical-level core component assembly can be carried out in a high cleanliness environment.The company has a full set of LED chip packaging production and testing equipment, adhere to the quality policy of 100% testing for all modules; Module package production department has chip package processing capacity of more than 100K/day.
Relying on our strong R&D capacity, production capacity and sales support each other, CoolUV Technology can:

● Ensure the stability of product quality;
● Ensure the consistency of product quality;
● Conduct overall product quality management;
● Guarantee the delivery date;
● Provide fast customization services;
● Effectively reduce new product development cycle time.