CoolUV Technologys is a company focuses on R&D.
All the core technologies and knowledge systems of CoolUV Technology start from independent research and development, and gradually accumulate from scratch step by step.
Radiation curing system is a knowledge-intensive product involving many disciplines. Its core technologies include optical design, chips packaging, heat transfer and electrical driving. Defects in each link will greatly affect the quality and overall performance of the product. The overall level of product design, such as the rationality of structural design, the advancement, reliability and stability of electrical control, and the convenience of use and maintenance, directly affects the customer's use experience and product evaluation.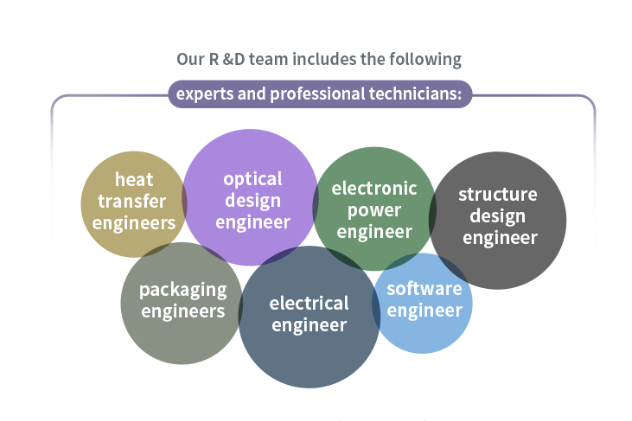 The core components of UV LED curing system, starting from the chip, optical design, module design, heat dissipation design, drive circuit, control structure, etc., almost all functional modules are independently designed and manufactured by our CoolUV. The company's research and development design has basically realized full digitization, which can carry out the simulation calculation of electricity, light, heat, fluid and other core modules of the design scheme in advance, doubling the speed and quality of research and development. In addition to standard products, the company can also quickly provide high-quality customized products according to the requirements of the market and customers. With years of accumulated professional knowledge, CoolUV has achieved the real "Know How" and professional.

CoolUV Technology has established a good cooperative relationship with many upstream and downstream enterprises of the industrial chain at home and abroad, together we committed to the development and application of new technologies. We also plan the strategy of research and development from a global perspective for the future, so as to continuously provide customers advanced products and solutions.